Gogyûshin-dô (Hall of a guardian deity, Gozuten'ô)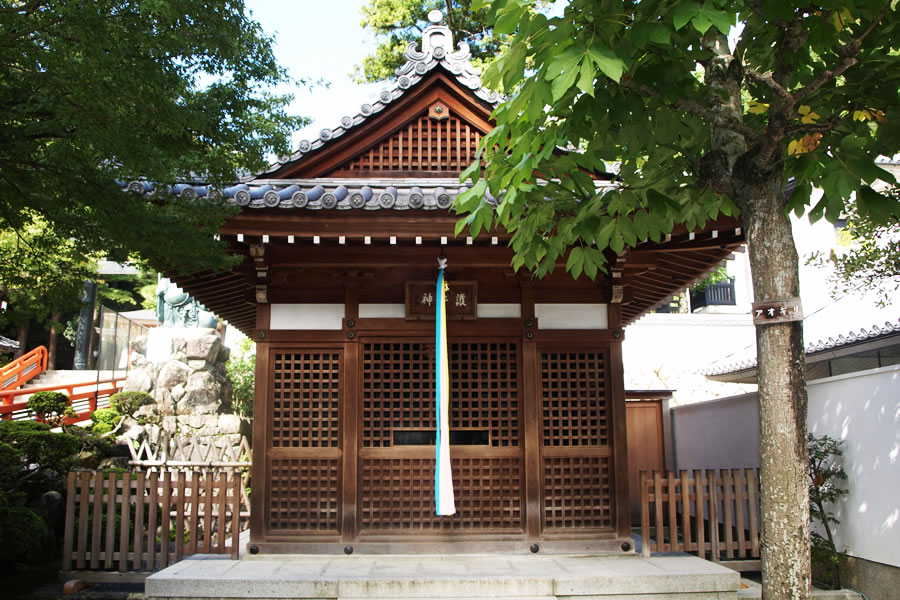 This small hall is located by the path which leads to the Ten-dô hall. A statue of Gozuten'ô, a guardian of Gion-shôja temple (Jetavana Anâthapindikârâma) in ancient India, is enshrined in the front section of this hall. Gozuten'ô is known as a Buddhist deity of lucky directions who protects people from misfortune. The rear section of this hall is used to burn holy fire "Goma" (Homa) as part of monks' Buddhist practices.
Besides of these major temple halls, there are about thirty-eight structures on the green mountain including the San-mon gate, Shôrô bell tower, Kyôzô archives of Buddhist scriptures, Kenzoku-dô hall, Gokusho hall for offerings, monks' quarters, Hyakuren-dô hall, Shunkô-an subsidiary temple, lecture hall, Ugai-an subsidiary temple, a storage,Seihô Bunka Kaikan (culture hall), and Seikô-den museum. The number of Buddhist and Shinto deities enshrined within the compound is more than forty. It is one of the characteristics of our temple that all of them are the deities of happiness and prosperity, worshipped by pious visitors wishing for love and peace in life.